Travelling Athletes is a fitness travel agency offering fitness holidays for individuals and groups alike.
There is nobody like us.
No matter whether you are a fitness junkie or just getting started – our programs can be customized just for you.
Have fun and get in shape while on holidays.
Our fitness holidays don't have set dates –  you can stay one week or three months.
Anywhere. Anytime.
We guarantee you the lowest price possible on all our holidays, match you with a personal travel agent and much more.
Nutrition for Athletes – What you should know about your nutrition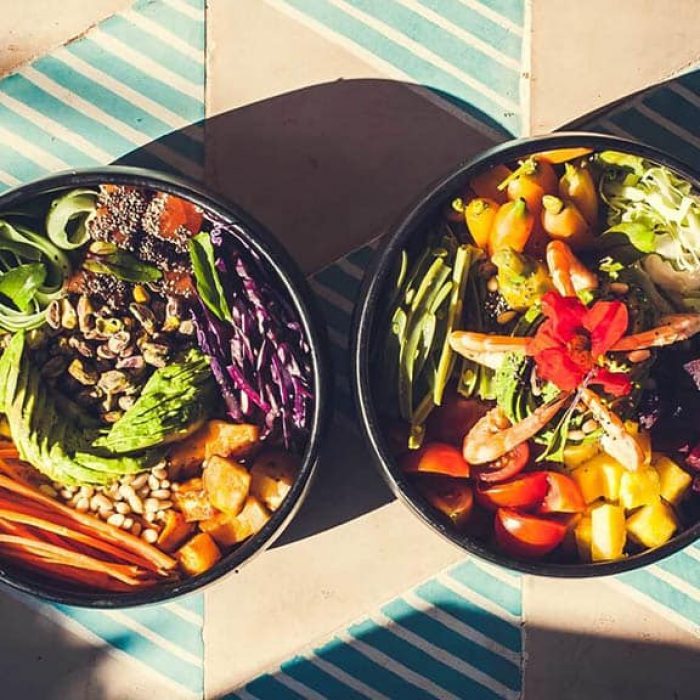 Nutrition for Athletes - What you should know about your nutrition
The key to successfully achieving your fitness goals is not only fitness and strength training. You need to pay attention to a healthy and balanced nutrition as well. The right diet also determines your athletic performance. Which means you will never achieve your athletic goals if you choose the wrong diet. Therefore, we will explain the most important facts to describe which nutrients you should eat before, during and after training.
First, it is necessary to clarify how metabolism works and influences your nutrition.
Our metabolism is the basis for all vital bodily processes in our body. This includes digestion, breathing as well as energy production. In other words, your athletic performance depends on how well your body can control metabolic processes.
But what exactly does metabolism do in our body?
Metabolism is the process of utilizing and transforming the different components of nutrients in our cells. Therefore, our body constantly needs nutrients. Now you may be asking yourself what nutrients your body needs when you do sports. As a guideline for fitness nutrition, you should cover 50% of your energy needs with carbohydrates, 20% with fats and 15% with protein.
It is important to know that not all carbohydrates are the same!
The big 3: The main macronutrients in food.
Carbohydrates
Carbohydrates are our body's most important source of energy. However, the body can only store and use a certain amount in its glycogen reserves. A distinction must be made between the "good" and the "bad" carbohydrates. The "good" carbohydrates have a low glycaemic index, which means that blood sugar levels will not increase as much. "Good" carbohydrates can be found, for example, in green vegetables or wholemeal products. The "bad" carbohydrates, on the other hand, make you fat in the long run and only provide a short energy boost. These are contained, for example, in wheat or white flour products.
Fats
Fats also provide energy and are important in sports nutrition. Because fat is digested the latest, compared to other nutrients, you should avoid high-fat meals before training. If your body is busy digesting fat during your workout, your performance will be affected. Polyunsaturated fats such as omega-3 and omega-6 are particularly important in nutrition because they strengthen the heart and circulation. They are mainly contained in salmon or vegetable oil.
Proteins
Proteins are mainly responsible for the regeneration of muscle fibres. You should make sure to eat enough protein throughout the day. High-quality sources of protein can be found in eggs and milk products.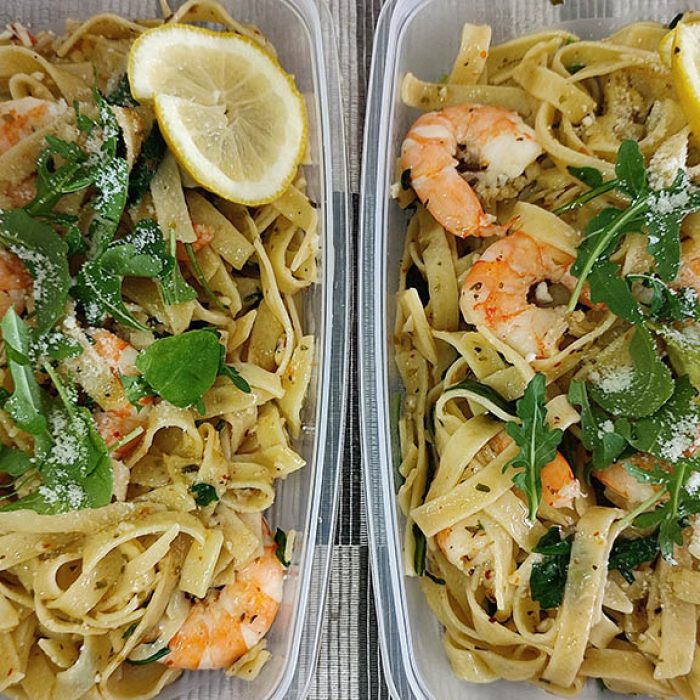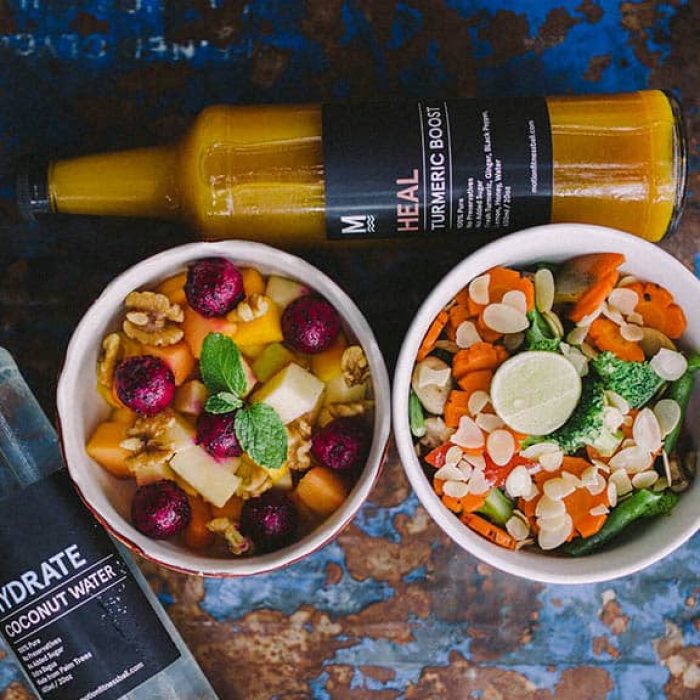 What to eat before and after your training.
What should you eat before and after exercise?
In general, there should be at least three hours between your last big meal and your workout. Otherwise, the food will feel heavy in your stomach and in the worst case you will get side stitches.
If you feel a little hungry before the workout, a few nuts, dark chocolate, an apple or a banana before will be a good choice.
Make sure you drink enough water during your workout. This will not only compensate for the increased need for water, but also provide you with the necessary nutrients.
Remember that your body absorbs water delayed.
After a workout, you should increase your protein intake. This will strengthen your muscles. It is also important to refill your glycogen reserves with carbohydrates.
Make sure you eat enough carbohydrates and protein after exercising!
The right nutrition for your travels.
How does proper nutrition work during fitness holidays?
Bootcamps or high intensity training (HIIT) are often a big part of fitness holidays. This means switching between cardio and strength exercises.
While gaining muscles, it is important to pay attention to the right protein intake.
The fitness holidays offered by Travelling Athletes will provide you with a well-balanced and personalized diet on every journey. No matter which trip you choose, you can increase your performance and improve your metabolism with a healthy diet. We're here to help you achieve your fitness goals. For example, on our fitness trip to Tenerife, we will send you a questionnaire in advance to help you create a meal plan and ensure a healthy diet during your fitness journey. It is important to know that you will need different nutrients that will affect your body. By following simple principles in your diet, you can visibly increase your training success.
Of course, every person and everyone's body is different and has its own individual nutritional requirements and needs. This article is only intended as an overview.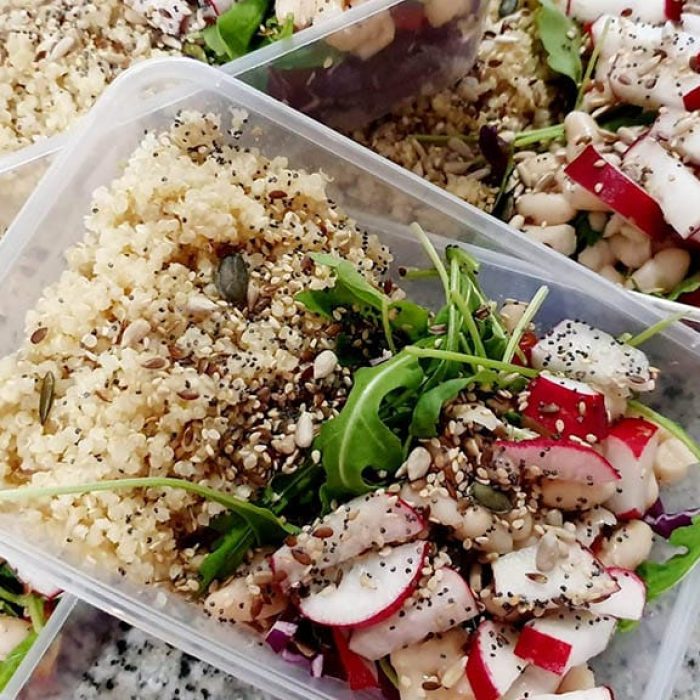 Here is some more For you to read...
Sustainability in Focus: The Future of Fitness Travel
Don't Leave Home Without Them: Packing List for a Fitness Holidays
Fitcation: The Perfect Combination of Fitness and Holiday 
Yoga Holidays – Your Perfect Getaway for Body and Mind
CrossFit exercises everyone should know!
Work out all over the world – the best CrossFit boxes
CrossFit – one of the hardest workouts in the world!  
Stretching after a workout: A necessity?
Outdoor Bootcamp – What to expect from an outdoor bootcamp?
Nutrition for Athletes – What you should know about your nutrition
Interested? Check Out Our Fitness Holiday Packages.
It has never been so easy to travel the world, meet like-minded people, and enjoy amazing workouts in beautiful destinations. Try it yourself and become part of the community of Travelling Athletes.
No matter whether you want to travel to Bali or Greece, we will help you become a better YOU while you experience an unforgettable fitness holiday. Designed for individuals or groups, our fitness holidays are perfect for all fitness levels and are available 365 days a year.
Get in shape while on holidays…
A perfect Fitness holiday for you. Anywhere. Anytime.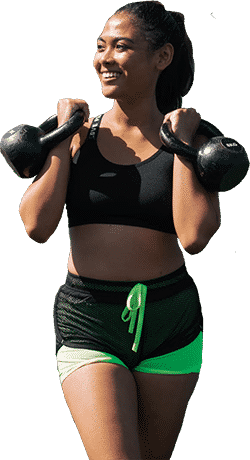 Check out the variety of reasons why hundreds of like-minded people have chosen to become a Travelling Athlete©.
Reasons to become a Travelling Athlete©
Become a Travelling Athlete and profit from all the advantages. No matter if you are a beginner or an advanced athlete, no matter if you are on your own or with a group of friends: You can travel the world 365 days a year meanwhile getting fit in paradise-like destinations.
Keywords: Fitness Camp, Fitness Holiday, Yoga, Muay Thai, Personal Training, Wellness Resort, Titan Fitness Camp, Tiger Muay Thai Camp, Tiger Muay Thai Beachside Fitness Camp, Soi Ta-iad, Chalong, PhuketFit, CrossFit Chalong, Fitness Vacation, Fitness Retreat, Retreat, Health Resorts, Sun, Beach, Fitness Training, Crosstraining, Group Classes, Weight Loss, Detox, Cleanse, Ice Bath, Beach Workouts, Boot Camps