For All
travelling athletes
Get in shape while You're on holidays
WODs, CrossFit Mallorca, Beach Training, HIIT, Personal Training, Boot Camps, Beachworkouts & Yoga
Included Services
Hotel, Program, Meals & Co.
Our prices include much more than just
having a good time.
Suitable for
Beginners, Advanced, Athletes
No matter whether you are a fitness junkie or just getting started – our programs can be customized just for you.
Retreat Duration
Flexible travel duration
Our fitness holidays don't have set dates –  you can stay one week or three months.
Best Time to Travel
May, June, September (possible from April - End of October).
Our fitness holidays are available all year.
Any day. Any month.
Our "Come & Go" Fitness Holiday Packages
It has never been so easy to travel the world, meet like-minded people, and enjoy amazing workouts in beautiful destinations. Try it yourself and become part of the community of Travelling Athletes.
No matter whether you want to travel to Bali or Greece, we will help you become a better YOU while you experience an unforgettable fitness holiday. Designed for individuals or groups, our super flexible "come & go" fitness holidays are perfect for all fitness levels and are available 365 days a year. 
 Flexible travel dates –> just find the best flights and come & go as you like.

 No fixed daily schedule –> giving you the flexibility you need whilst on holidays.

— Just select the fitness holiday package you like, click on view more, and customise the package to your needs —
Experience this popular fitness holiday and combine daily bootcamps and multiple hours of personal training with a memorable stay in the south of Mallorca. Our...
H10 Casa del Mar (4-star seafront hotel), Santa Ponsa, Mallorca
Private Room - Accommodation of your choice for the length of your stay
Breakfast Buffet (Dinner Buffet Optional)
3 Hours of Personal Training per person
Fitness Program incl. Bootcamp, HIIT, Beachworkouts & Co. (Mo. - Sa.)
Daily Beach Bootcamps (Mo. - Sa.)
One Personal Travel Assistant Just For You - Available 24/7
Program Intensity: 7 out of 10
Fitness Level: beginner, Advanced, Athletes
Location: beach, beach-community, city, mountains
Accommodation Type: standard, premium
fitness, personal training, crossFit, boot camp, beach workouts, biking, hiking
My Fitness Holidays in Majorca, Spain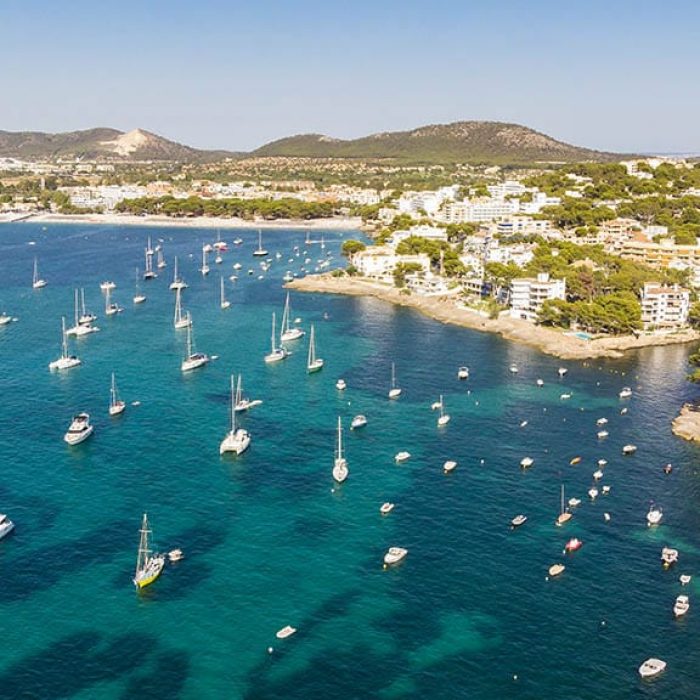 About Fitness Holidays
in Majorca, Spain
Majorca is the Spain's largest and second most populated islands. It is a place of idyllic landscapes where the Tramontana mountains in the north (the highest peak being the Puig Major with 1.445 meters) are just a step away from turquoise water & beautiful beaches. Apart from its natural diversity, it also makes tourist fall in love with its unlimited possibilities. You can hike & bike through mountain ranges, unwind during a sunset yoga session, soak in the sun on one of the many beaches, explore historic cities, taste Mediterranean cuisine or enjoy a night out. Regardless of whether you want an intensive fitness holiday in Majorca or a mix of relaxing on the beach and getting your sweat on: the island has something to offer for EVERYONE. Our fitness holidays take place in beautiful Santa Ponsa, in the south-west of the island. For you, of course, this means 100 % holiday feeling.
About the Weather in
Majorca, Spain
One of the many reasons why Majorca is so popular is also the climate. The climate of the largest of the Balearic Islands is always mild, but especially during the summer months when the temperatures start to rise, the island attracts visitors from around the world. As hotels, restaurants and shop usually open their doors from End of March until End of October, the island awakens and flourishes. The average temperature ranges from 10 °C (50 °F) in January to 25.5 °C (78 °F) in August. Especially from June to mid-September, it is hot and sunny, with the ocean breeze giving some relief. Rainfall is very limited during the summer months. Our Fitness Holidays in majorca are available from End of March until End of October. However, our recommendation is to travel to majorca in June & September as it is cheaper than July & August, and temperatures are more enjoyable for doing sports.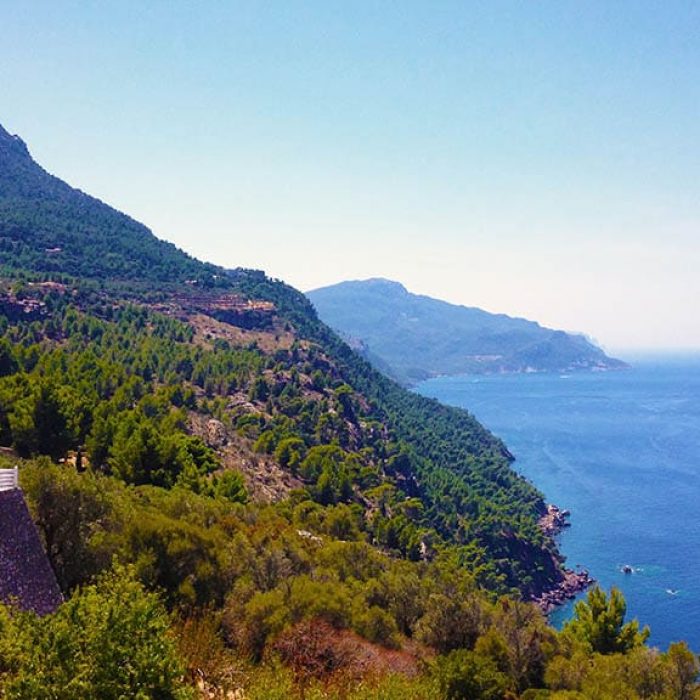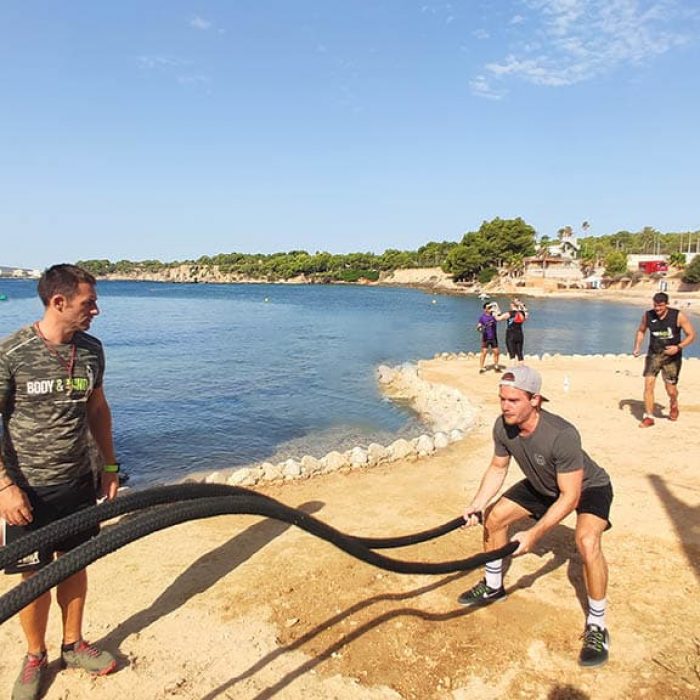 About the Fitness Program
in Majorca, Spain
majorca offers you first-class hotels as well as a variety of fitness programs combining intensive workouts with healthy nutrition and rejuvenating massages. Get to know new people in a boot camp, push your limits during CrossFit, join a yoga class or train individually with a personal trainer. Your fitness holiday, your fitness program! All our fitness holidays include a unique fitness program, a nice accommodation, different food options, transfers and much more. Haven't found what you were looking for? No worries. We can adapt every package to your needs (e.g. hotel, fitness program, food) or create an individual fitness holiday package in Majorca just for you. Our team on the island will be glad to welcome you and assist you in any way possible. Come to Majorca, Spain and look forward to getting in shape while you are enjoying a wonderful fitness holiday.
WODs, CrossFit Mallorca, Beach Training, HIIT, Personal Training, Boot Camps, Beachworkouts & Yoga

A perfect Fitness retreat for you. Anywhere. Anytime.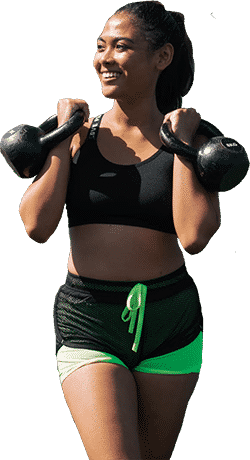 Check out the variety of reasons why hundreds of like-minded people have chosen to become a Travelling Athlete©.
Reasons to become a Travelling Athlete©
JOIN OUR COMMUNITY & GET €10 OFF YOUR NEXT TRIP​
Become a Travelling Athlete and profit from all the advantages. No matter whether you are a beginner or an advanced athlete, on your own or with a group of friends, you can travel the world 365 days a year while getting fit in paradise-like destinations.
Keywords: majorca, Majorca, Balearic Islands, Spain, Fitness Holiday, Yoga, Personal Training, Fitness Vacation, Fitness Retreat, Retreat, Health Resorts, Sun, Beach, Fitness Training, Training Camp, Crosstraining, Group Classes, Weight Loss, Detox, Wellness, Beach Workouts, Boot Camps, CrossFit majorca