WHO WE ARE​
Travelling Athletes is part of the German company obu travel GmbH & Co. KG, which was founded by us, Julian & Helge back in 2015. Our enthusiasm for sports and tourism, however, was born a long time before that. Competitive sports have been part of our everyday life since our early childhood. Apart from living a very active lifestyle, the desire to get to know and understand new cultures had been inside us for a long time. Thus, we have been travelling and living in different parts of the world for many years. Subsequent Bachelor and Master degrees in the fields of sports, tourism and management helped us build the foundation for the big plan ahead... In 2015, we finally decided to follow our dreams and start the journey by founding the obu travel GmbH & Co. KG. After first only offering fitness holidays to the German-speaking market under the name "Reiseathleten" (German for Travelling Athletes), we decided in 2020 that it was finally time to take the next step...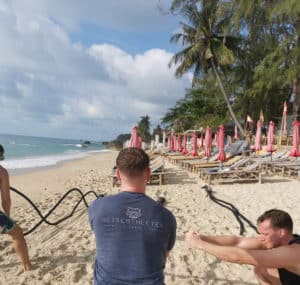 WHAT WE DO
No matter if you are an advanced athlete or you are just getting started, we help you have the best experience possible. Our mission is for you to have an amazing holiday while at the same time become a better, fitter you.
The Beginning
After months of planning, we finally founded the obu travel GmbH & Co. KG - a company with the goal of providing premium health and wellness holidays to the German-speaking market (if you didn't know, obu stands for only the best for you). This was the beginning of something great - and also challenging - ahead.
Reiseathleten & ReiseSpa
At the beginning of 2019, the two brands "Reiseathleten" and "ReiseSpa" were launched. While ReiseSpa offers premium wellness retreats, Reiseathleten focused on a totally different clientele: People with the primary goal of getting in shape while at the same time having a great holiday.
Nr. 1 for Fitness Holidays
After a few months our hard work and continuous effort had paid off as we had become the leading platform in the German-speaking market for fitness holidays. At this time, we already offered more than 50 different fitness holiday packages. And more were about to follow...
Becoming a Trademark
As our community grew and people started more and more to identify with us and our brand, we knew it was time. We protected our name and brand by registering it as an official trademark.
Start of Travelling Athletes
Our customers, with all their positive feedback, encouraged us to take the next big step and begin a new chapter in our journey to become the primary platform for fitness travel - worldwide. Consequently, in early 2020, Travelling Athletes was launched, offering selected fitness holidays to you and the rest of the world.