CrossFit Unboxed in Southern Greece – CrossFit, Yoga & Personal Training with Sea View – Fitness Holiday in Greece
CrossFit Unboxed in Southern Greece – CrossFit, Yoga & Personal Training with Sea View – Fitness Holiday in Greece
Experience the first CrossFit Unboxed hotel in the Mani, a beautiful, untouched region in the Peloponnese in southern Greece. It is the ideal location for an unforgettable fitness and sports holiday in traditional Greek surroundings. People of all fitness levels will feel better and more energized here than training at home. All training sessions will take place in open nature, surrounded on one side by the majestic Taygetos Mountains and on the other by the calm Mediterranean Sea. In short: this CrossFit box is "Un-boxed". You will enjoy Greece in its original form far away from mass tourism. In addition to daily CrossFit Unboxed sessions (WODs), various yoga classes and intensive personal training sessions, you can take part in various outdoor activities like sea kayaking or hiking. Also included in this fitness holiday is a beautiful private accommodation, a healthy breakfast buffet, as well as a private airport transfer.
beginner, Advanced, Athletes
Holiday Intensity: 7 out of 10
Recommended for: solo-travellers, friends, couples, groups
Accommodation: standard, premium
beach, beach-community, city, mountains
To see your final price, just click on "Customise Your Package", select your start and end date in the booking calendar, and choose the number of travellers as well as your preferred room type. If you like, you can add additional elements to your package (on top of the included services).
For All
Travelling Athletes
The following bars indicate the intensity of this fitness holiday. However, feel free to customise your fitcation to your own needs. Just click on "Customise Your Package" on the top of the page and add further activities (e.g. additional personal training sessions, massages).
Accommodation During Your Fitness Holiday
Overall Fitness (HIIT, TRX, Boot Camp, Beach Workouts etc.)
CrossFit in local Box, Workouts of the Day (WODs)
No matter whether you are just a beginner or whether you already have multiple years of experience doing CrossFit, this holiday provides the ideal setting for all fitness enthusiasts in Kardamili: a truly inspiring and unique location. This holiday is perfect for everyone who wants to improve and challenge their fitness level, or who wants to get inspired by the extraordinary outdoor setting to reach their next fitness level. Just start your way towards elite fitness. Overall, this CrossFit Unboxed holidays is designed to balance expertly coached training, fun outdoor activities and relaxation in a serene boutique hotel located in this picturesque Greek village on the Mediterranean coast. We want to bring you and other athletes from all over the world together to have a memorizable fitness holiday in Greece. Just look forward to ideal weather and combine an intensive fitness program with fun outdoor activities and international like-minded people.
Enjoy multiple workouts throughout the day, explore the beautiful Mani, and spend your well-deserved time off on the beach... There are numerous reasons why this holiday is one of our bestselling fitness holidays...
A typical day in Kardamili, Greece...
➨ Discover your wanderlust and get in shape while you're in Greece. After a good night's sleep, we recommend that you take part in one of the sunrise yoga classes to begin the day calmly. Then, after a healthy and nourishing breakfast, you will be ready for an unforgettable day of outdoor activities, fitness and relaxation in Greece.
Whether you want to go hiking in the impressive Taygetos Mountain or you want to explore the coastline of the Mani during a sea kayaking excursion, you will have an amazing time exploring the beautiful south of Greece. Alternative, treat yourself to a relaxing day at one of the many beaches the area has to offer :)
In the afternoon, you can enjoy your personal training session and focus on reaching your individual goals. This can be followed by an intensive workout in the open air box "CrossFit Unboxed". Train with other athletes and look forward to an amazing fitness class in the sun of Greece.
At night, the Mani also has lots to offer. Enjoy a peaceful evening in one of the Greek Tavern or go out and enjoy live music in one of the bars with your new, international friends.

Fitness Program
in Kardamili, Greece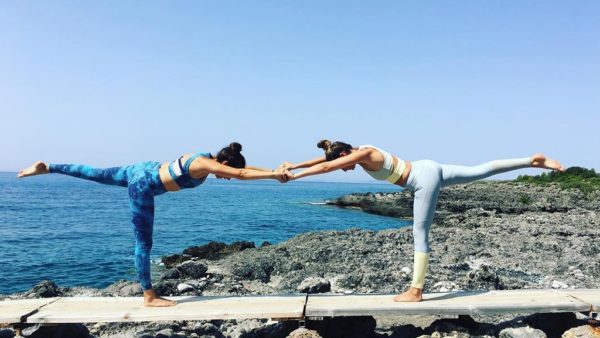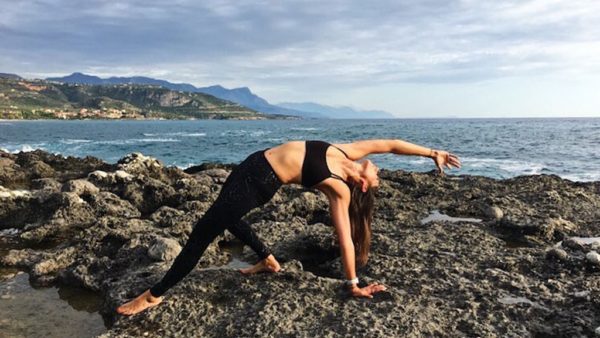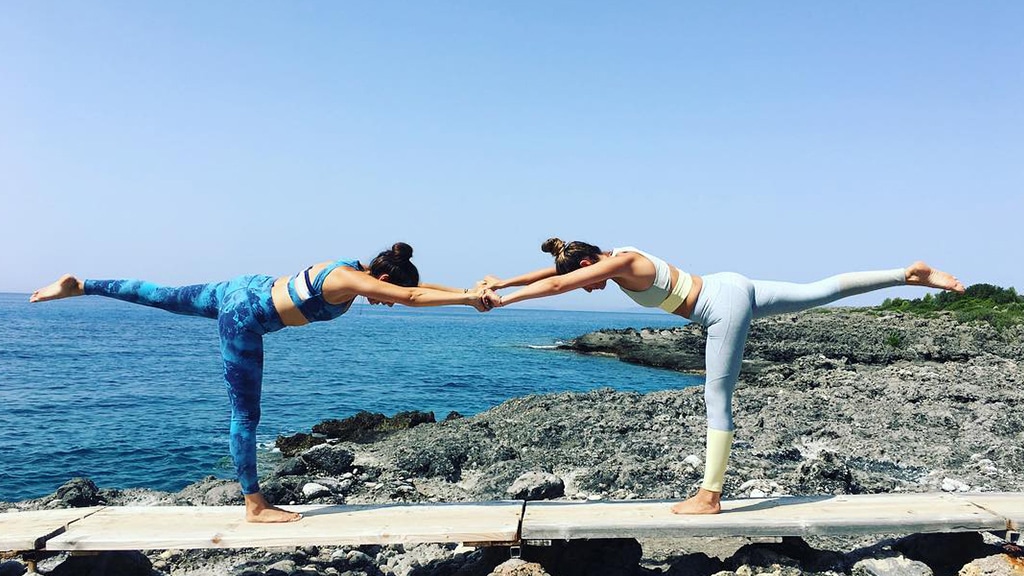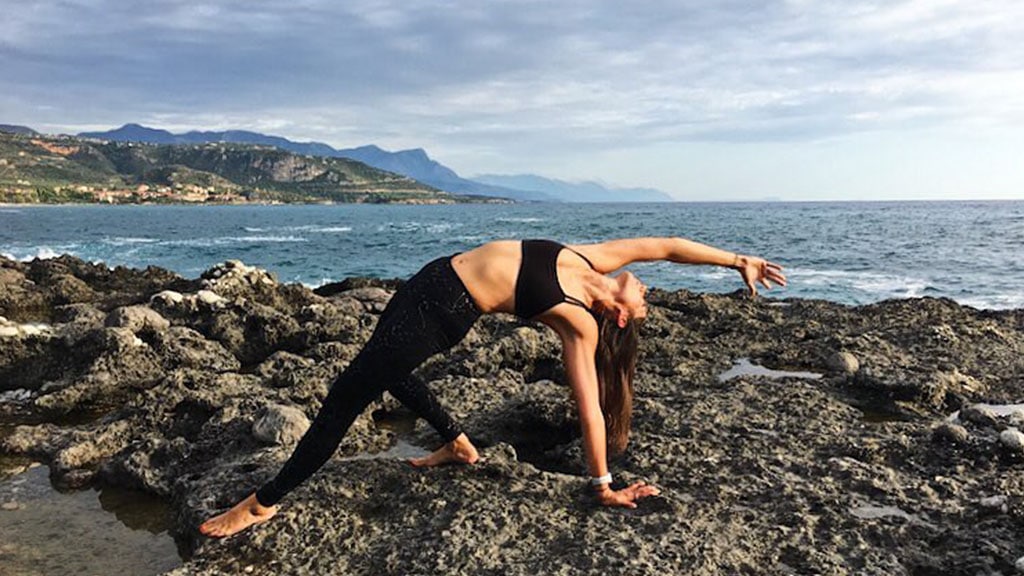 Become a Travelling Athlete and get in shape while you're on holidays.
No matter whether you want to travel to Bali, Spain, or any other destination, we help you become a better YOU while you experience an unforgettable fitness holiday with diversified workouts, beautiful beaches, and amazing people.
Hotel & The Surrounding Area
Kardamili, Greece
Explore Kardamili in the Mani, Greece
Mani nests in the central and most south peninsula of the Peloponnese in Greece. Near Kalamata, you will find the beautiful Kardamili village and your boutique hotel. It is the perfect place for your fitness holiday in Greece. Make use of your freetime and explore the hill villages of Agia Sofia, Petrovouni, Proastio and Exohori, where you can enjoy breathtaking views of Messinian Golf and numerous sites of historical interest. Along the way you can find well-marked walking paths, as well as rugged mountain trails for cyclists.

For those who want to dive into the crystal clear sea of Messinia, there are beautiful beaches like Ritsa Beach in Kardamili and the famous beaches at the nearby villages of Stoupa and Kalogria. Further, you will be amazed by one of the many secluded rock beaches, like the one right in front of Melitsina Village Hotel, which is ideal for snorkelling.

Another highlight in the area are the Taygetos Mountains. Just a short drive from Kardamili, the Taygetos Mountain are definitely worth a visit. Try one of the amazing hikes such as Rindomo and Viros Gorge and be astounded by the incredible landscape. Numerous monasteries and small churches can be found along these gorges. → We recommend a guided hike, as some trails are rather steep and secluded.

A little further away, in the greater Mani area, there are also some highlights you can visit:
Cape Tenaro, the south-most point of mainland Europe
Diros Caves, a natural monument of extraordinary beauty
Mistra, a UNESCO world heritage site situated on a steep cliff of Taygetos.
Look forward to lovely accommodations during your holiday. You deserve to get some rest after a day full of adventures, training, and fun.
I stayed in this hotel with a friend for 7 days, and we loved it. Every day starts with a good breakfast with a wonderful view from the terrace on the mountains and the sea directly in front of the hotel. The cosy rooms have enough space and a huge balcony also with a great view. We had a kitchen with a stove to prepare some food if we didn't want to go to one of the many great Restaurants nearby. The Apartment also included a really nice bathroom. Everything is in perfect condition. But the best Part during this week was the CrossFit and Yoga offer. We did a lot of different sports before but never CrossFit, and we loved it, although sometimes we couldn't even move any more in the evening. We had some Personal Training Session with the owner of the CrossFit Box Dimitri (6hrs), who is such a nice guy. We joined every evening the WOD together with some local CrossFit athletes. Together with the Yoga classes it was a perfect mix between strength, Mobility and flexibility. We totally recommend staying here.
CrossFit Unboxed Holiday Greece - Fitness Holidays in Greece
October 2019
Sebastian & friend
Everything was just amazing. Perfect location, amazing fitness classes and a really cool group of people. I definitely will be back in 2021 :)
CrossFit Unboxed Holiday Greece - Fitness Holidays in Greece
September 2020
Charlotte
Healthy Breakfast Menu
Delicious breakfast is included for each guest. Look forward to fresh and healthy food options and start the day fully energized.
Xai Xou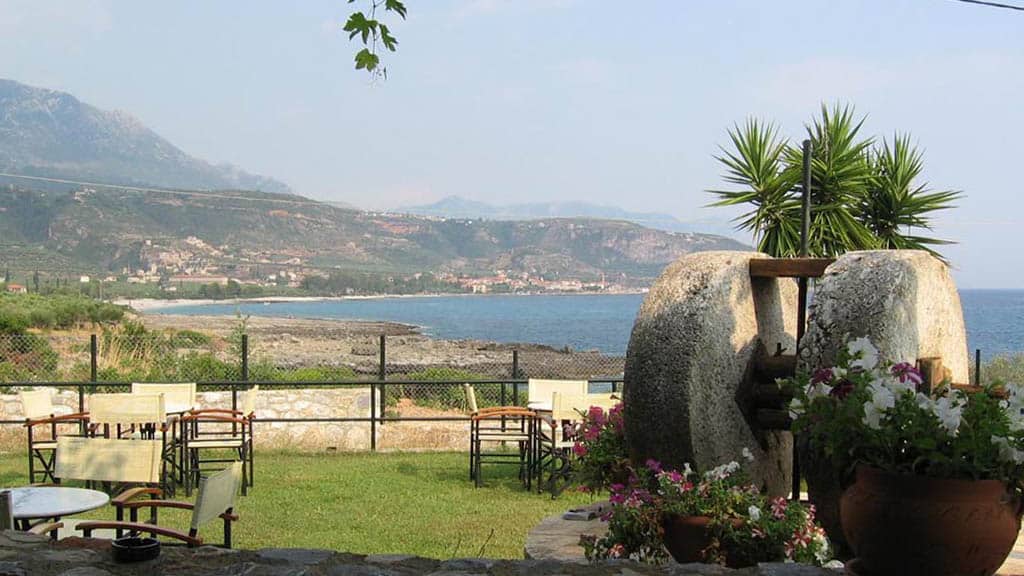 Xai Xou this is Melitsina's on-site Cafe/Restaurant with panoramic views of the rest of Kardamili and the Messinian Bay. Xai Xou offers a daytime menu of light snacks and meals and an evening menu of delicious Greek style cuisine that really is some of the best food in Mani. The 'moon rise' over Kardamili as viewed from Xai Xou is spectacular.
Dine Out
If you want to dine out, you also have the option of various restaurants along the coastline. Whether you choose to eat at a typical Greek restaurant (Tavern) or in an international restaurant, you will be very pleased with the various options.
See what this fitness holiday is like...
1)
Melitsina Village Hotel, Kardamili, Greece
2)
Private Accommodation of your choice for the length of your stay
4)
3x Hours Of Small Group Coaching (CrossFit Skills) | Max. 4 People
5)
Daily CrossFit Unboxed sessions / WOD
7)
Private Airport Transfer from Kalamata Airport (Round Trip)
8)
One Personal Travel Assistant Just For You - Available 24/7
Not Included
in this Tour
1)
Flight to Kalamata Airport (KLX)